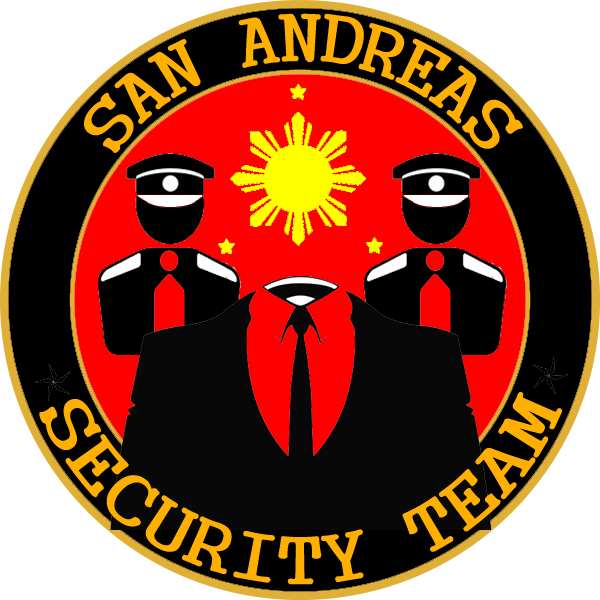 ABOUT US

 San Andreas Security Team
is a private corporation in San Andreas organized by Businessmen and being managed by Certified Security Professionals (CSP) and retired military police officers. LSSA  offers relief from most of the day  to day business and social hazards invariably made from vandalism, pilferage, economic sabotage, etc. by presenting a well-managed competent and efficient class of  Security Personnel. The guards and field officers are given periodic seminars and orientation according to the individual needs of its clients. Each personnel exhibited records of excellence in matters of physical fitness, character, personality and academic performance. To upgrade its services, LSSA maintains a twenty-four (24) hours alert system, consisting of assigned staff and duty officers who have more than sufficient experience in emergencies and other contingent situations. 
Aside from its security expertise. SAST also offer special investigation work which includes identification and infiltration, surveillance and background investigation, apprehension and or arrest in coordination with the local authorities. 
With this system, SAST can respond and dispatch guards to a security vacuum in any of its detachment within 24 hours. Hence guards are discouraged to render unnecessary overtime or straight duties. SAST have more that enough licensed firearms and well-trained guards ready for posting immediately upon demand of the clients. To ensure close supervision, effective monitoring system such as daily day and night inspection, radio communication transceivers including telephone lines are being utilized.
Duties and Responsibilities
Basic Security Services
Security Consultancy
Security Survey and Planning
Surveillance
CCTV Security Operators
Electronic Security
House Detectives
Private Investigation
K9 Services
Access Control System
Transport Security
Executive Protection
Close-in Security for VIP's
Undercover and other Operations as Requested by Clients  
Clients
Residential Security
Law Enforcement Agency
Corporate Security
Malls & Commercial Centers
Office & Industrial Establishments
High Risk Facilities    
Professional Security
Trained
Licensed
Qualified
Uniformed
Equipped 
High Command
Director [8]

Assistant Director [7]

In-Charge
Divisional Leader [6]

Manager [5]

Supervisor [4]

Staff
Head Agent [3]

Senior Agent [2]

Agent [1]

Staff [0]
Human Resource
Internal Affairs
Training & Recruitment
High Command
240
In-Charge
171
VIP Escort Uniform
189
Commercial Duty Uniform
71
Corporate Duty Uniform
163
164
FBI Rancher
2
Sultan
2
Premier
3
Stretch
1
Burrito
2
Admin




Posts

: 35


Join date

: 2012-09-03




---
Permissions in this forum:
You
cannot
reply to topics in this forum